An Artificially Intelligent Multi Asset Index with IBM WatsonTM.
AI Powered Multi Asset Investing
The AI Powered Multi Asset Indexes are the first and only rules-based multi-asset strategies to use IBM Watson to turn data into investment insight.

AiMAX5 is a risk controlled, excess return index comprised of a diversified portfolio of ETFs that is rebalanced weekly and is designed to seek consistent returns through a variety of market conditions.
Award Winning Innovation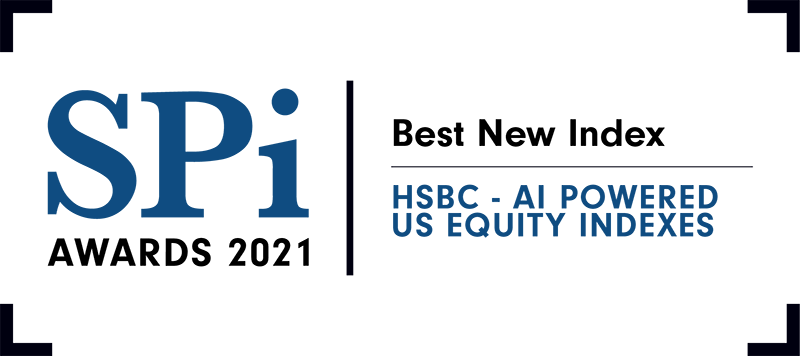 SPi is a market intelligence company that provides market intelligence, reference data and lifecycle information for the structured products industry.

In 2021, the HSBC AI Powered US Equity Indexes won the Best New Index award. This award recognises, following the Index Standard methodology, the best non-traditional index provider of the year, which outlines their methodology, innovation, and value to investors.
IBM - The World Leader in AI
IBM Watson represents a new era in computing, where systems understand the world the way humans do: through intuition, learning, and experience. IBM Watson continuously learns, gaining value and knowledge from interactions over time.
This video was produced by IBM Watson. HSBC has not reviewed, sponsored or endorsed this video or any of its contents.
Performance:
Historical & Simulated
The AI Powered Multi Asset 5 Index would have provided growth through a variety of market environments due in part to a unique asset allocation process intended to adapt to market changes and mitigate potential risks.

While real time calculations began on March 5, 2021, the graph below illustrates how
AiMAX5

would have provided long term positive returns with low volatility.
AiMAX5




7.91%


compound
annual return
Key Statistics and Characteristics
Returns as of last available closing level
AiMAX5
(ER)

1 M
-1.95%
YTD
-3.67%
1 Y
-0.29%
3 Y Annualized
5.93%
5 Y Annualized
8.66%
10 Y Annualized
8.43%
| | |
| --- | --- |
| Bloomberg Ticker | AiMAX5 Index |
| Asset Class | Multi Asset |
| Currency | USD |
| Launch Date | March 5, 2021 |
| Index Sponsor | EquBot, Inc. |
| Calculation Agent | Solactive AG |
| Index Fee1 | 0.85% per year |
1 AiMAX5 Index values shown here, and as calculated and published by Solactive AG, are net of the 0.85% p.a. Index Fee.
The graph and table above sets forth hypothetical back tested performance of the Index from June 28, 2005 through Februrary 26, 2021, See the risk factors and "use of Simulated Returns" herein.
AiMAX5 Index Strategy


AiMAX5

uses a 3 step process to rebalance the index portfolio each week:


Step 1: AI Forecasts
AiMAX5 applies its latest insights from million of current and historical data points to forecast the future returns of each asset class.
Step 2: Portfolio Testing
Through a process based on the Principles of Modern Portfolio Theory, AiMAX5 tests each possible combination of the 15 investable asset classes in order to measure each portfolio's forecasted return, volatility, and correlation.
Step 3: Portfolio Selection and Rebalancing
From the test portfolios, AiMAX5 selects the portfolio that offers the highest forecasted return while minimizing volatility and correlation, and rebalances a portion of the index to reflect the new portfolio.
5 Investible Asset Types > 15 Investible Asset Classes Next Generation Global Diversification Strategy
| | |
| --- | --- |
| Developed Equities | |
| iShares Russell 2000 | IWM |
| Invesco QQQ | QQQ |
| SPDR S&P 500 | SPY |
| iShares MSCI EAFE | EFA |
| iShares MSCI Japan | EWJ |
| | |
| --- | --- |
| Developed Bonds | |
| iShares 20+ Year Treasury Bond | TLT |
| iShares 1-3 Year Treasury Bond | SHY |
| iShares iBOXX $ Investment Grade Corporate | LQD |
| iShares iBOXX $ High Yield Corporate Bonds | HYG |
| Vanguard Total International Bond | BNDX |
| | |
| --- | --- |
| Real Assets | |
| iShares U.S. Real Estate | IYR |
| SPDR Gold Shares | GLD |
| | |
| --- | --- |
| Emerging Markets | |
| iShares MSCI Emerging Markets | EEM |
| iShares J.P. Morgan USD Emerging Market Bond | EMB |
| | |
| --- | --- |
| Inflation | |
| iShares TIPS Bond | TIP |
AiMAX5

daily risk control helps provide smoother returns.

AiMAX5 reacts daily to changing market conditions, as rapid movement in the market, or volatility, can create greater potential risk.

AiMAX5 reduces reduces the impact of short term volatility in the global markets through daily re-allocations between the selected multi asset portfolio and a cash component.


AiMAX5 seeks seeks a 5% daily volatility target, if the volatility falls below the target, the allocation to the selected multi asset portfolio is increased up to a maximum of 150%. If the volatility is greater than the target, allocations to the multi asset portfolio may be reduced. Allocations below 100% to the multi asset portfolio will be reallocated to a cash component.
For more information on the index methodology, please see the AiMAX5 Index Guidelines and the Ai Powered Multi Asset 5 Index Guideline published by Solactive AG. Information contained in these Index Guidelines or otherwise available from Solactive is not incorporated by reference in, and should not be considered a part of, this website.